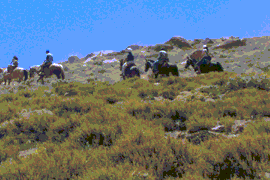 Welcome LOS ANDES - CHILE
In the beautiful and mystic city of LOS ANDES-ACONCAGUA VALLEY, fifth region of CHILE, distant one hour from SANTIAGO by San Martin highway, we have installed a new office of ECOTOURISM, EXPEDITIONS, ADVENTURE TOURISM, MAPUCHE/ETNICAL TOURISM, ACONCAGUA ADVENTURE.
Our mission is to show to CHILE and the WORLD the generosity of our land, the warmth and joy of our people...
Mountain sports. Trips to wonderful place, different grades of difficult. Outdoors life, adventure tours, ecotourism. Many sports such as ski with several international centers. Rafting in Aconcagua River high adrenaline, medium or beginners levels in rafts to 14 people. Trekking circuits of high and low requirement or you may tray our horse riding trips. Andinisim with high, medium or beginners.
We have Expeditions, EcoTourism, Photograph safaris, Fly fishing and lake side fishing, waters falls descence for all type of people and skills. Skeet shooting highly prepares instructors will give you everything you need, even arms and munitions.
Expeditions to interesting places as Cristo redentor, Glaciares, etc.

We will follow the route of a Chilean trail Trasandino,a trail which crosses zones of extreme beauty, arqueological sites, native woods. Senderos de Chile. This trail uses much of the old pre columbines routes Aconcagua cultures. We may not forget our culture of our colonial houses some of there declares national monuments restored to receive visitors and shade buy old Encinos, Alcornoques, Maitenes, Peumos and Quillayes (typical trees of our lands), our you may tray our coffee breaks.
Realize chilean events as trilla a yeguas sueltas with typical food of the zone: asado al palo, etc.
... "JAHUEL Valley
From the native sound, water springs, this mystical valley is situated only 90 kilometres north of Santiago in the north boundary of the Aconcagua Valley. Is recognized as a point on earth that concentrate high levels of energy because of its tectonic activity, highly mineral mountains that surround the valley, and thermal mineral waters that have qualities of improving a good health, and purifying your inside when drunk. The Jahuel Valley is an agricultural valley of abocatos, grapes, olives and dried fruit. The plantation leads us up to the last house of Chile, where Cajon del Zaino a narrow and beautiful canyon is the doorway to high Andes mountains and the untamed Chile, land of guanacos, pumas and condors, typical mountain cowboys called arrieros, the most beautiful scenery and all the ingredients for calm slow ride or hard adventurous paths that touch the sky, leaving the clouds below.
Day time tours take you up el Zaino Mountain, a ceremonial hill for precolombine cultures and a defensive natural fortress full of petroglifos, carved drawings on stone. Climbing to the top opens a marvellous view of the valley while you are at 1.571 meters of height and 700 meters above the valley.
Enjoy our fruitful wines, visit to vineyards. Seal points. Trips petroglyphos of important Aconcagua Wineries; our characteristic by the fact of a great amount of win yards, produce artesian quality wines, another typically liquor of the region, such as chicha, canelita, apiao, mistelas, etc.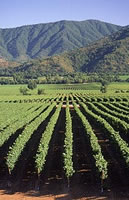 enviar su mail